Interview With Dan Watson Part 2
(Edited by Sheri Delcore)
Original drummer Dave  Schmidt wasn't part of the reunion despite you did try to have him and it's Gary Gutfield who took the seat, what happened exactly? 
I got a hold of drummer, Dave Schmidt, and he was not interested in it at all. He had not played his drums for 20 years and said he did not even know where they were, and he was too busy with his job.  When HEXX broke up, Bill and I were not on very good terms with drummer John Shafer so I opted not to contact him about doing this show. Bill and I had worked for many years in the Hellbillys with a drummer named Gary Gutfield. He was more of a punk rock drummer than a real metal drummer but he was a good friend and we figured with enough practice he should be able to handle the job, and he was totally into doing the show. 
How come you didn't try to get a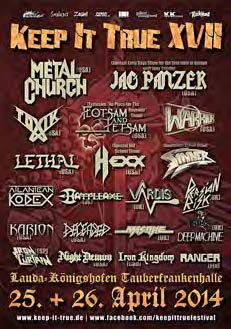 second guitarist in the reformation? Didn't you mention Clint as a possibility? 
I tried to get a hold of Clint Bower to play second guitar. I had a phone number for him and left many messages without any reply. I heard he had quit playing music and did not want to talk to anyone about it. I respected his feelings and decided not to bother him about it anymore.
We thought about adding another guitar player but by the time we got around to it our plane tickets had already been purchased and there was not the budget for another member to make the trip. However, I did try very hard to get John Marshall to join up with us for the show and Oliver from KIT was willing to make an exception for him because Metal Church had just been confirmed as headliner and he could sit in with them for a few songs after our set. Unfortunately traveling is extremely difficult for John right now, so he had to sit this one out. 
To back track a little bit here: Oliver from KIT was expecting a confirmation from me about HEXX reuniting and performing at the festival. Around this time I lost contact with Dan Bryant. He would not answer his phone or respond to the messages. He had his own band going and I guess he just lost interest in getting back with HEXX, or did not take me seriously.
I was finally able to contact Dennis Manzo through face book and talk him into at least coming down and trying a few rehearsals to see how it would go.
Bill, Gary and I started rehearsing and learning the songs from No Escape and Under the Spell. We had about 8 songs where we could play pretty well so we invited Manzo down to sing. Manzo had not been singing, and in-fact had not sung or performed at all after he left the group back in 1985. He was very rusty and could not make it all the way through one song. It still sounded pretty cool though even as rough as we all sounded it still sounded like the No Escape record. I figured we had over a year to get ready for this show, if we kept practicing we should be fine. I could tell Bill had not warmed up to the idea yet but was doing it mainly as a favor to me–because by now I was really excited about doing the show. We talked it over and decided we would go for it and confirm with Oliver that HEXX would perform at the KIT festival in 2014–after all we still had 14 months to get ready for it!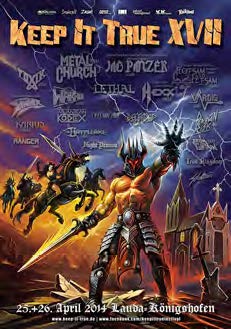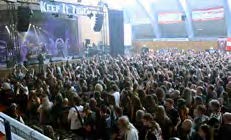 Well since we've discussed the HEXX story last year, quite a lot of events have happened in the HEXX camp that I never thought would happen… so first of all, how did the KIT festival go? How was as it for you, your first European experience? 
Well Laurent, let me just say straight away that playing the Keep It True Festival in Germany last April was one of the greatest experiences of my life. I am very grateful to you and to Oliver from KIT for making it all possible for us. Because of you two guys, HEXX is back, and in its original Power Metal style from the early years. 
We were blown away at how nice everyone was to us. Oliver and all the staff were so friendly and helpful we just could not get over it. We are not used to being treated like that here in the United States. Especially the fans, from the moment we got out of our car in the parking lot of the venue we were recognized and people had our
albums there for us to sign. We would sign whatever they wanted us to sign, chat for a while then start heading to the arena and be stopped again and the same thing would happen all over. It seemed like it took us an hour or so just to get from our car to the stage door. It was a great feeling, because we were a little skeptical about how many people still knew of us at all.
Our performance at the show was not quite as good as we would have liked, but the fantastic response and support we received from the fans was so overwhelming it made us feel much better about it. You know, we went through quite a lot in the year prior to that show. It was a long journey for us from the time you first contacted me on face book regarding HEXX performing at the KIT festival, to that day when we actually hit the stage in front of that sold out crowd of amazing heavy metal fanatics.  
When you initially contacted me that night, the last thing in the world I could imagined would be that anyone anywhere gave a rats ass about HEXX; much less enough people to warrant flying the band overseas to perform.  I totally blocked it out of my mind for years and wrote the whole experience off as another one of my many miserable
music failures in life. After entertaining the idea for a week or so I started to think maybe it would be fun to try and get the guys back together and do a reunion show in Germany.
The first of the guys I got a hold of was bassist, Bill Peterson. After explaining it to him I could tell that he was not really very excited about the whole idea. But he kind of humored me along, "Sure Watson, if you can get the rest of the guys to go along with it so will I."  He surly thought I was crazy to even entertain the idea of HEXX getting back together for any reason. But, I was going to hold him to it. After HEXX broke up back in 1993 or 1994 Bill and I kept on playing together in various music projects and went on to record several albums in varying styles of music including the Hellbillys. As far as I was concerned I had Bill on board, even if he was not too keen on the idea, I figured I would be able to talk him into going along with it if I pestered him enough.
The original idea was to have both singers from No Escape and Under the Spell, Dennis Manzo would perform the No Escape album with us and Dan Bryant would perform Under the Spell. I was able to track down Dan Bryant and he seemed to be into doing it so I thought, "Great, maybe this won't be so hard after all."
Prior to those shows you guys wrote some new stuff and managed to record a new four song demo with John Marshall back at the helm, what motivated you to write new stuff  so quickly considering at first it was just a reunion for a specific show ? Was it a desire all you guys had from the first minute you got back together? 

No it was mainly me trying to get things back together. For me, writing and demoing up new songs is all part of the fun!
How was the demo received by people and industry? I remember some label directors being not too keen on Dennis vocal parts… which weren't that convincing on the recording but still you could feel that with some work the potential was there this said… 
That demo was not very well received at that time. The response I got was pretty week. The music was in the old power metal style alright, and everyone seemed to see potential, but it did not seem to knock anyone's socks off. We were going to release that demo on Vic Records along with a bunch of other stuff but right about then Metal Blade stepped in and started talking to me about re-releasing the entire HEXX catalog on Vinyl and CD boxed sets. They asked to hear the demo we made with Manzo and after hearing it, advised us not to release it right away.
Then came the offer out of nowhere from Metal Blade to release if I understood well, all of the HEXX material in a box set, do you know why suddenly they got interested in HEXX considering you've never been on that label ? 
 How did they manage to deal with Shrapnel considering how Varney reacts with the bands he signed 30 years ago? Will the box sets feature extras like maybe some live shows and the 2013 demo?
I don't know why Metal Blade took an interest in us. It has been very difficult trying to work out the deal with Shrapnel and Metal Blade for the re release of our first two albums, No Escape and Under the Spell. It has been well over a year of back and forth negotiations
with lawyers and everything. As I write this in mid December we still have not received completed contracts. I do however expect them any day now, so by the time this goes to press we should have everything sorted out and signed. Maybe even product available finally. The plan is to release both albums separately on vinyl first in Europe, both with an extra surprise bonus track. Then the CD box set will include both albums, the original three-song Paradox demo, the long lost eight- song Under the Spell demo, a DVD of Hexx live with Dan Bryant at the Omni in Oakland California,  and select live footage of HEXX performing at the Keep It True festival in Germany last April; plus a bunch of cool pictures of the band from those times.
Surprisingly enough Bill wasn't part of the shows, and got replaced by Mike Horn on bass and in the end only you and Dennis were left from the original line up…I guess it was a major blow for all of you guys…  
Yeah, I could tell Bill was losing interest in doing the show and was still struggling with some severe health issues. In fact, he wrote in an email to me that he was sorry but he just was not into doing HEXX at that time. That's when I started looking around for another bass player to fill in for Bill for the KIT show. Keep in mind we still have not started rehearsing yet, this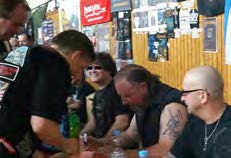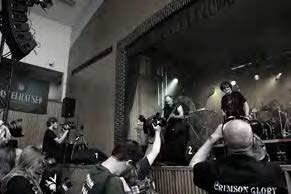 was probably around November 2013. We still had 5 months before the KIT so I thought we could make it if I could find a bass player soon. I searched online and found Mike Horn. He was the first and only guy I contacted and sounded interested in the project so I sent him the songs to learn and set up an audition. The day came and we finally got to jam! It was the first time we got to play since we started the demo project. We went through six or eight songs and Mike sounded great. He had a good tone and had clearly done his homework. He still needed a little work on everything, but then so did we all. Especially Manzo; the rest of us could play the songs all the way through but Manzo could only sing bits and pieces of phrasings and could not sing any of the songs all the way through.
We decided to give Mike one more rehearsal the following Sunday before we made any final decisions, and I wanted to talk to Bill one last time and make sure he did not want to do the gig in Germany in 5 months. The following week Bill was admitted back into hospital and remained there for almost two weeks. I knew then that because of his health issues alone he was not going to be able to make this trip–even if he wanted to. After the second rehearsal with Mike we all talked it over and agreed that we would carry on with Mike on bass, at least for this show.
How about the S.F. warm up show you did prior to the KIT festival? Did quite a few people from the old days show up for that show?
It was a small club in Oakland's Jack London Square called Merchants saloon, there was only 50 or 60 people but we did see quite a few familiar faces. Eric Cutler from Autopsy and our old drummer John Shafer were there to cheer us on. Until that night we still had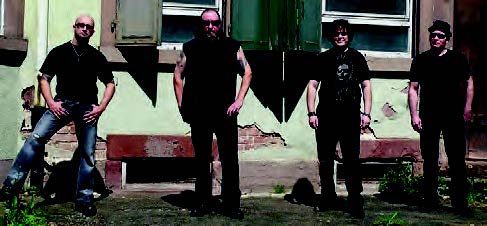 not heard Manzo sing the entire 45 minute set all the way through without having to stop and leave out words and phrases. He managed to get through most of it ok but we were all very nervous that he was not going to be up to speed in time to pull off the KIT show.
Still the biggest surprise was to hear that Dennis had decided to not be part of HEXX anymore by the summer 2014 and instead Dan Bryant re-entered the picture when he wasn't interested in the first place to share vocal duties back in 2013, what happened exactly that led Dennis to leave Hexx and Dan to change completely his mind ? 
 Also Gary left and re-enters John Schafer as well in recent times, what happened here? 
After our performance at the KIT show we knew Gary was just not going to be able to cut it on the drums. Gary is a great guy and still a good friend but he is just not a metal drummer. I had been in contact with John Shafer and he wanted to be part of our little reunion so when we got home from Europe we jammed with John and everything fell right into place. You see, John had studied drums under Dave Schmidt for years and could play exactly all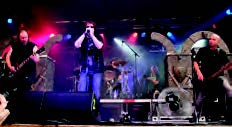 the beats and drum intros perfectly that Dave had played on both albums. John Shafer is just more suited to what we are doing musically and he has been a metal drummer from day one. In the end, John was just the right fit for us.
With Manzo was, as I said earlier, the original idea was to have both singers be part of the HEXX reunion. When we got back from Europe I managed to get back in touch with Dan Bryant and told him about our experience in Germany. Maybe he did not take me seriously before when I first approached him about doing the KIT festival, now he seemed very interested in joining in with the HEXX reunion. Jurgen from the Head Bangers Open Air Festival caught our set at the KIT show and we started talking about HEXX performing at the HOA in 2015. I figured it would be great to have both vocalists each sing the albums they both sang on.
I set up a rehearsal with Dan Bryant, who had not sung those songs in 30 years. Manzo emailed me earlier in the week to see when our next rehearsal was and I told him I had been in touch with Dan Bryant and how he would like to share and participate in what we were doing, and that we were going to jam with him this weekend to see how it goes. He said he would not share the stage with Dan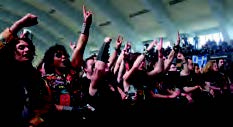 Bryant and he would no longer participate in the band if we started to work with Dan Bryant. I tried to explain to him that he was an important part of the bands history, but equally, so was Dan Bryant and Clint Bower; and that I wanted to have the door open for all original members who would like to participate to be able to do so. His reply was he was going to be the only singer for HEXX or he would no longer participate.
I told him, "I am sorry you feel this way, but we are going to include Dan Bryant and you should give this some more thought and I will leave the door open to you should you have a change of heart."  I left it at that. I emailed Manzo months later after we were confirmed for the HOA in Germany for 2015 to see if he had a chance to think it over and had a change of heart about performing with the group again. He never responded to my email so I took it as a no. Dan Bryant will be our vocalist for the HOA festival.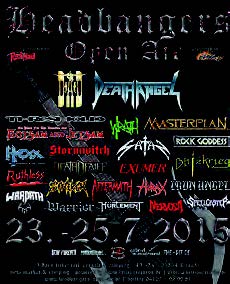 So with this revamped line up, what's the upcoming plan exactly following the recent two song demo you did with Dan Bryant?
Well, in addition to getting ready for the HOA in July 2015, we are also working on a bunch of new songs. Actually, we have enough for a whole new album right now but we are writing even more so when the time comes we can choose the best ten or so. The new songs we are writing are directly in the character of Under the Spell and No Escape. We are trying to recapture the style that our fans on the power metal side seem to like best.
Did Metal Blade show interest in releasing a new album maybe?
Yes, it may be possible. They seemed to like Burn or Boil and Swimming the Witch.
I think they want to see how the re releases do before committing to a new album deal though. Well have to wait and see.
-With all that stuff behind you and more in front of you, how do you see the whole HEXX thing going? I mean it was certainly unexpected that so much would happen in such a short time for you…   
Yes, it has been a very interesting year or so. We are hopeful that things continue to progress and if it is warranted, to record and release a new full length HEXX album in our old power metal style. Also we would like to be able to play more festivals in Europe in the next few years to come.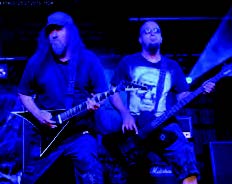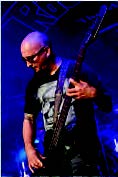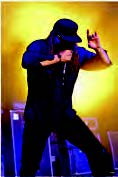 Thank you Laurent for all your insightful questions!
Dan Watson
HEXX
Special Thanks!
Laurent Ram for talking me into raising HEXX from the grave and for the Snake Pit Magazine 2 part interview. Oliver Weinsheimer from KIT for giving HEXX the fi rst chance to perform in Europe. Robert Grzesiak from Pure Metal Magazine for printing all the HEXX stories. Jürgen Hegewald and Thomas from HOA for giving HEXX a second chance to Perform in Europe. Sheri Declare for Proof reading and editing the 2 part interview and all the HEXX story's.